The music industry in the UK are excited to announce the launch of the UK's first ever weekly Official Vinyl Charts, published exclusively right here on OfficialCharts.com, as new figures reveal the vinyl resurgence powers on strongly in 2015.
Kicking off Record Store Day week 2015, new proof arrives today that Britain's renewed interest in music on vinyl shows little sign of slowing.
2014 witnessed vinyl LP sales reaching a 20-year high in the UK at 1.29 million, following seven years of unbroken growth, and now, new Official Charts Company data for the first quarter of 2015 reveals that this trend is continuing at pace, with vinyl album purchasing up yet again a staggering 69% versus the same period in 2014, and vinyl singles also up 23%.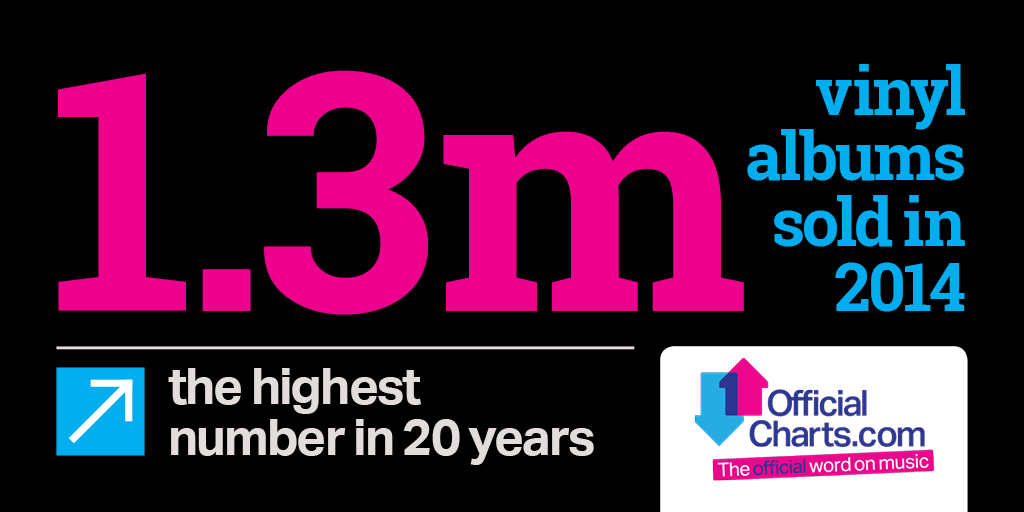 So while it's quite clear that music fans and collectors alike can't get enough of the format, the Official Charts Company are pleased to introduce the UK's first ever Official Vinyl Charts.
The Official Vinyl Albums Chart Top 40 and Official Vinyl Singles Chart Top 40 (combining sales of 7" and 12" singles) launch exclusively on the all-new OfficialCharts.com – the online home of the Official Charts.
Following a period of rapid audience growth hitting record traffic of 2.5 million monthly unique users, our newly revamped mobile-friendly site – which was awarded Site Of The Fortnight and a 5* review by Web User Magazine, as well as being shortlisted for Best Website at this summer's Brand Republic Digital Awards – will become the exclusive home of the weekly rundown, with the charts published each week on Sundays, 7pm.
Martin Talbot, Chief Executive, Official Charts Company comments, "We're delighted to launch the UK's first Official Vinyl Albums and Official Vinyl Singles charts on OfficialCharts.com, to coincide with Record Store Day this coming weekend. With vinyl album sales up by almost 70% already this year, vinyl junkies could well have snapped up 2 million units by the end of this year – an extraordinary number, if you consider sales were one-tenth of that just six years ago. This growth underlines the continuing resurgence of this much-loved format, whether you're a fan of Arctic Monkeys, Noel Gallagher, Led Zeppelin or David Bowie."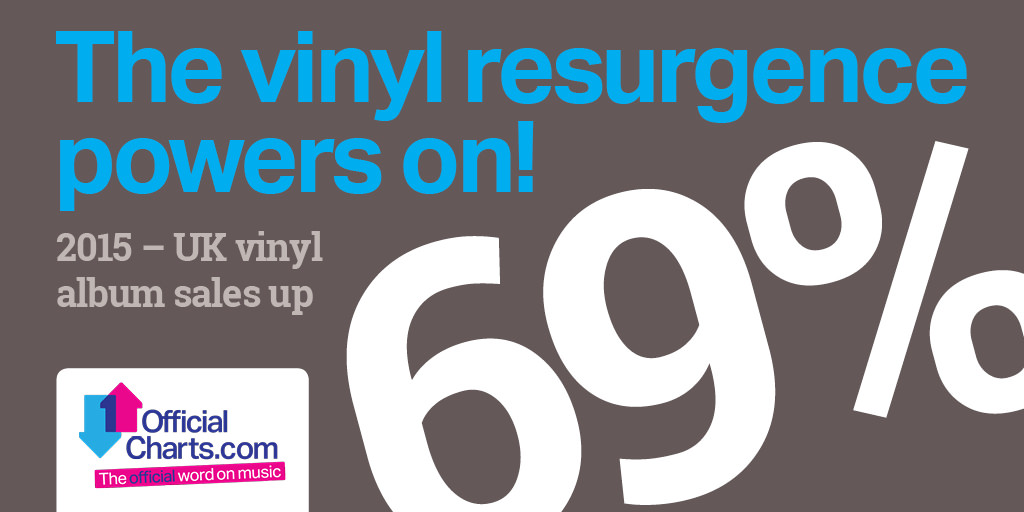 Kings of this week's main Official Albums Chart and also responsible for Britain's best-selling vinyl record of the week, All Time Low's frontman Alex Gaskarth said:
"What's been going on with vinyl at the moment is really cool. What I love is that there are different worlds of vinyl fans; there's the audiophiles who swear by the sound of vinyl, the people for who like owning it as a collector's piece, and then groups like our fans who buy a vinyl of our record simply so they can hang it on their wall.
"Back in Baltimore there's this incredible record store called Sound Garden, which I can regularly be found in. What I love about vinyl is that it makes a real event out of music; you go into a record shop and have to search out what's there. The world is in music overload at the moment, so it's great to see more people honing in on certain artists by buying a vinyl and showing loyalty to their favourites. It makes the whole experience of listening to an album special."
UK vinyl retailer Phil Barton of Sister Ray Records, Soho, London adds, "The resurgence in vinyl sales has been a great boost for the independent trade. The launch of the Official Vinyl Charts tells the world that a format that is loved and revered is more relevant now than ever – far from being a curiosity, vinyl is the go-to format for many music fans."
Official Vinyl Albums Chart – Q1 2015
| | | |
| --- | --- | --- |
| 1 | CHASING YESTERDAY | NOEL GALLAGHER'S HIGH FLYING |
| 2 | PHYSICAL GRAFFITI | LED ZEPPELIN |
| 3 | AM | ARCTIC MONKEYS |
| 4 | ROYAL BLOOD | ROYAL BLOOD |
| 5 | THE RACE FOR SPACE | PUBLIC SERVICE BROADCASTING |
| 6 | SHADOWS IN THE NIGHT | BOB DYLAN |
| 7 | THE DARK SIDE OF THE MOON | PINK FLOYD |
| 8 | LOST IN THE DREAM | WAR ON DRUGS |
| 9 | HAPPY PEOPLE | PEACE |
| 10 | FOUR SYMBOLS | LED ZEPPELIN |
Official Vinyl Singles Chart – Q1 2015 
| | | |
| --- | --- | --- |
| 1 | BALLAD OF THE MIGHTY I | NOEL GALLAGHER'S HIGH FLYING |
| 2 | THE DYING OF THE LIGHT | NOEL GALLAGHER'S HIGH FLYING |
| 3 | YOUNG AMERICANS | DAVID BOWIE |
| 4 | UPTOWN FUNK | MARK RONSON FT BRUNO MARS |
| 5 | HOPE FOR THE FUTURE | PAUL MCCARTNEY |
| 6 | THE HUNTER | SLAVES |
| 7 | CUT ME AND I'LL BLEED | BLOSSOMS |
| 8 | HANDSOME | VACCINES |
| 9 | IN THE HEAT OF THE MOMENT | NOEL GALLAGHER'S HIGH FLYING |
| 10 | I COULD GIVE YOU ALL THAT YOU DON'T WANT | TWILIGHT SAD |
Annual UK vinyl album sales volumes
| | | |
| --- | --- | --- |
| YEAR | VINYL LP SALES VOLUME | SHARE OF UK ALBUMS MARKET |
| 1995 | 1,410,905 | 1.60% |
| 1996 | 1,083,206 | 1.00% |
| 1997 | 817,018 | 0.70% |
| 1998 | 642,102 | 0.50% |
| 1999 | 672,866 | 0.60% |
| 2000 | 751,857 | 0.60% |
| 2001 | 761,558 | 0.50% |
| 2002 | 657,127 | 0.40% |
| 2003 | 579,248 | 0.40% |
| 2004 | 453,254 | 0.30% |
| 2005 | 351,224 | 0.20% |
| 2006 | 250,926 | 0.20% |
| 2007 | 205,292 | 0.10% |
| 2008 | 208,526 | 0.20% |
| 2009 | 219,449 | 0.20% |
| 2010 | 234,471 | 0.20% |
| 2011 | 337,041 | 0.30% |
| 2012 | 388,768 | 0.40% |
| 2013 | 780,674 | 0.80% |
| 2014 | 1,288,510 | 1.50% |