From Gibson:
From Chuck Berry to The Beatles to the Stones and beyond, the guitar riff has served as the foundation for many of rock and roll's most enduring classics. To tell the background behind every great riff would be a monumental task, but we thought it would be fun to present the stories behind some of the best, as told by the players themselves.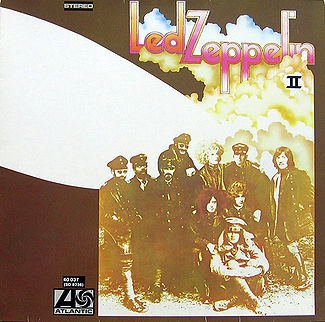 "Whole Lotta Love," Led Zeppelin
Jimmy Page (as told to BBC News): "I wanted a riff that really moved, that people would really get, and would bring a smile to their faces, but when I played it with the band, it really went into overdrive. There was this intent to have this riff and the movement of it, so it was menacing as well as quite sort of caressing."
"(I Can't Get No) Satisfaction," The Rolling Stones
Keith Richards (as told to NPR): "I go to bed as usual with my guitar, and I wake up the next morning, and I see that the tape is run to the very end. And I think, 'Well, I didn't do anything. Maybe I hit a button when I was asleep.' So I put it back to the beginning, and pushed play, and there, in some sort of ghostly version, is [the opening lines to 'Satisfaction']. After that, there's 40 minutes of me snoring."
"Smoke on the Water," Deep Purple
Ritchie Blackmore (as told to Guitar International): "I was trying to get an edge to what we were doing in Deep Purple, which is why I wanted something so powerful. But the thing is, I've seen people play it, and they always seem to strum it. I actually pick the notes with two fingers at the same time, the thumb and the first finger. Just the two notes. It's a finger-style riff.
"Walk This Way," Aerosmith
Joe Perry (as told to Gibson.com, 2007): "I stumbled onto that riff at a sound check. I can remember sitting there thinking how much I like James Brown, and the Meters, and I wanted to write a song that had that sort of R&B feel. That was the motivation, and that's what started the riff. As far as the lyrics go, I didn't know it was going to go that way, and I don't think Steven did either. He just knew that the piece of music was in line with the type of music we liked, and that's why it kind of stuck around. It just kept shouting, 'Sing over me!' But I didn't know how it was going to go. He just kind of let it fly."
"Layla," Derek and the Dominos
Eric Clapton (as told to Uncut, 2006): "We spent a lot of time working together on the guitars and Duane was very instrumental in the development of the song. He came up with this riff that was pretty much a direct lift from an Albert King song, 'As The Years Go Passing By,' from the Stax album Born Under A Bad Sign. It's a slow blues and there's a line that goes, 'There is nothing I can do, if you leave me here to cry', and we used that."