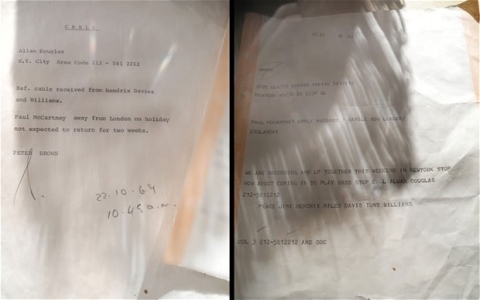 Click above for a (slightly) larger image
I love playing "What If?" in my mind.  What if Paul McCartney really did die back in 1966, and all those clues on The Beatles' album covers weren't clues, but admissions? What if Stan Gets never had a drug and alcohol dependency? And what if a 1969 collaboration between Miles Davis, his phenomenal longtime drummer Tony Williams, Jimi Hendrix and Paul McCartney had actually happened? Davis and Hendrix had already been jamming together in New York, planning to record an album.
Bringing Paul McCartney into it wasn't that strange – he was always the adventurous one, the artistic member unafraid to go well into different genres past rock.  Davis and Hendrix sent McCartney an impromptu October 21st, 1969 telegram request to record with them in New York: "We are recording an LP together this weekend. How about coming in to play bass stop call Alan Douglas 212-5812212. Peace Jimi Hendrix Miles Davis Tony Williams." [Alan Douglass was the ostensible producer.] But, as Rolling Stone explains:
It's unclear if McCartney was aware of the request….  Beatles aide Peter Brown responded the next day, telling Hendrix and Davis that McCartney was out on vacation and wasn't expected back for two weeks.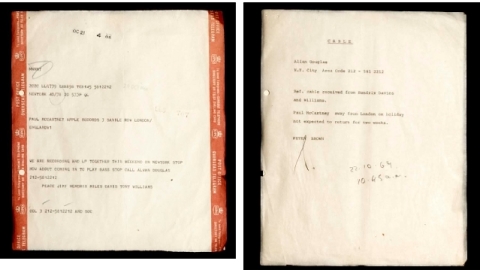 What if, indeed?
Click to (slightly) enlarge
Via Open Culture